The event took place on April 27, 2018. It took place at Hotel Xenia in Volos and it was co-organized by the University of Thessaly and the Centre for Research and Technology Hellas. The purpose of the event was to promote the objectives, activities, and outcomes of the LEAP project to the target tertiary education sector as well as industry. The event was very well attended by 150 individuals approximately, all of whom were representative of the target sector.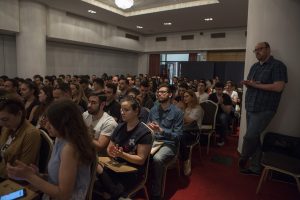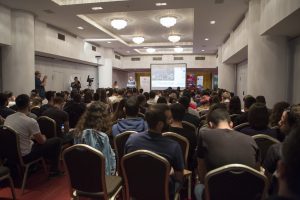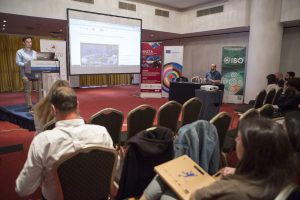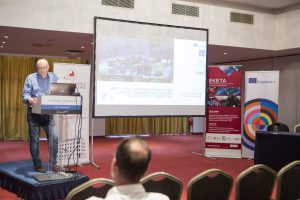 The students that attended the event were from the Department of Electrical and Computer Engineering and the Department of Arthitecture of the University of Thessaly. In addition, the audience included a significant number of students from the Technological Institute of Thessaly (TEI Larissas) from departments that focus on industrial design. The students from TEI Larissas were transported to Volos along with their professors in a bus that was leases specifically for the purposes of the multiplier event. The audience further included a small number of professionals.
The event was promoted through the Public Relations Department of the University of Thessaly in a press release that was jointly issued by the University and the Centre for Research and Technology Hellas. It was promoted to 22 regional and national level media outlets, including newspapers, on-line portals, TV stations, radio, and more. The press release was published in a number of outlets throughout Thessaly, although it is possible that it may have also been published at the national level by some media channels.
The event was further promoted to the Magnesia Division of the Greek Society of Engineers (TEE Magnesia), a professional association that represents the target sector of engineering. In fact, the Vice President of TEE Magnesia was present at the event and opened the activities through a speech. The event was further promoted to the Enterprise Europe Network Hellas, a network of companies in the area of engineering.
The event was organized in the form of presentations of project activities, demonstrations of the software, and discussions on evaluation results. Furthermore, 10 laptops were leased in order to allow the audience to use the LEAP tools during the duration of the event.
Press release sent to 22 media outlets
Presentation of the event on the UTH portal
Presentation of the event on the Department of Electrical and Computer Engineering Portal
Presentation of the event on the CERTH-IBO portal
Presentation of event on the Greek Society of Engineers Magnesia Division Portal
Presentation on the UTH Facebook page